Let's face it. This year's 4th isn't going to live up to some of the 4th's in the past (and believe me, I've had some good ones).
Stupid Coronavirus (thanks a lot, China).
Well, let's just say I'm lucky I got out of those 4th's with all my fingers attached.
But aside from the Rona, I suppose there's been some recent events that have gotten people a little riled up. I've even heard of some talk about canceling the 4th of July this year. On the surface, I oppose of this, my main reason being that the 4th always seemed to be the epicenter of summer. When I was a kid, it was a time where neighbors got together and celebrated, where people were generally happy, and where there was always a sense of unity among us. And when I got older, it was an excuse to party and act foolish (all in the name of America). But throughout it all, it was like we were all proud to be Americans, at least for one day. And at the very end, there was always a kick ass fireworks show to be seen.
But now as an adult, I suppose it's time to put away the illegal fireworks and actually have an honest critique as to why we celebrate the 4th, especially since many of my brethren have been doing the same and coming to different conclusions. Is America really the greatest country that's ever stood on the face of this Earth, or are we a country full of racists, a-holes, and systemic oppressors? It may take a little context to completely understand.
Back in ol' 1776, we had a bunch of colonialists livin' life and doing their thing, able to enjoy what could be a peaceful life. But apparently, they were also pissed off about a few things. Taxation without representation, being forced to house soldiers, having to deal with crap judges and injustice, and long list of other grievances (read all about em' here). Now, most of these dudes were rich white guys who had privileges, and could've very well lived out their lives continuing to be rich and privileged, even if it meant putting up with some BS from time to time. But from the looks of it, they believed in something more. They saw what was going on around them and said, "this ain't right, I don't care who you are." So, Tom Jefferson and a couple other dudes were all, "naw, we've had enough," and wrote a Declaration of Independence, then John Hancock (not Herbie), Sam Adams, Ben Franklin and a few other cats signed their names on it and then slapped it on King George's desk.
In summary they said, "America. It's our country. Change my mind." End of story, right? Well, not so fast. For in a world of privileged men, King George, perhaps the most privileged of all, wasn't so used to not getting his way. Turns out, they had to fight the British Army in order to get what they want.
Though we learned about the Revolutionary War in school, I don't think the textbooks really do the justice these guys deserve.  I mean, just think of the balls on these guys for a minute.  For them to say, "Ok, this protesting and Boston Tea Party stuff is child's play.  You and me Britain.  Anything goes cage match.  Right here, right now," and to call out the most powerful country in the word to a title match.  Like, as soon as they signed that declaration and shipped it off to King George, they knew there was no turning back.  If they didn't follow through, those guys would be royally screwed (no pun intended)!
To put it into perspective, let's assume that Antifa were actually fighting a "fascist" government, followed through with a revolution, declared their independence and told the United States to "give me everything you got." Chances are, they'd get their asses handed to them pretty damn quick. And looking at your average Antifa member, I don't think they'd have the cahones to go toe to toe with a Marine if it came down to it. But the founding fathers did exactly that, and they won. They were willing to risk their lives, livelihood, and essentially put all their chips on the table, all for a belief that all men were created equal, that they were entitled to the unalienable rights of life, liberty, and the pursuit of happiness as endowed by our creator. And being that I'm among the beneficiaries of great men who did give their lives for the cause, hell, I'll take a day to remember and drink to that!
And best part?  After all the ass kicking was said and done and George Washington had the chance to be king, he was all, "naw, this belongs to the people."  He straight up turned it down!  Tell me another man who would ever do that?  Maybe John Cena… maybe, but I can't think of many others outside of that.  A true bad ass there, and we haven't even gotten to all the war stories, like crossing the Delaware in the dead of winter with his soldiers wearing burlap sacks as shoes, exiting battle with bullet holes all over his coat, and having two of his horses shot out from under him, then still getting back up to finish the fight.  We're talking Undertaker vs. Mankind Hell in a Cell level of badassery, times 10!
Now, I understand the men of that time weren't perfect, and there were evils of their time that hadn't been dealt with, most notably slavery. To delve into the details of the contrasting views of slave owners versus abolitionists and the overall sentiment on this issue among the colonies would probably require a lot more research and another couple blog posts to make sure I get all the facts in line. And let's not forget some of the other issues that hadn't been settled, such as Native American relations and the right for women to vote, but I believe there was an understanding amongst the founding fathers that there was more work to be done, and they laid out the groundwork in the constitution to ensure future generations could strive to create that more perfect union.
That's an important phrase, a more perfect union. God knows I am nowhere near perfect, much like my ancestors before me, and I bet you someday, our grandkids are going to look back at us and be all, "grandpa, what the hell?" My initial response would be to smack some sense into them, but it brings forward a solid point. We're always changing, trying to be better than the generation before us. It's why honest Abe and hundreds of thousands of others fought and died to end slavery. It's why MLK led the March on Washington for civil rights, or why our grandfathers fought against the Nazi's in World War II. They all had their faults, and if your grandparents were anything like mine, I'm sure you'd agree that they were a little rough around the edges and not the most politically correct of folks. But they had an appreciation of the sacrifices previous generations had made, made sacrifices themselves, and were called to continue the fight, to make it better for the next generation, and the ones after.
So, if you've been feeling a little down about America lately, just think about this for a minute. What those guys pulled off back in 1776 was nothing short of miraculous. To set up a government stating off the bat, "guess what Karen, I can say what I want, when I want, and there's nothing you can do about it," was pretty G. To allow people to own guns and start a militia… whether you think it was the stupidest or most brilliant move ever, you gotta admit, they certainly put their money where their mouth was. And trusting the people to make decisions as to how to live their lives? Hell, I don't even trust my ol' buddy Ben Woodward to follow through on eating hot wings with me, and I've known that kid for years!
I gotta hand it to those founders, they took some huge risks and fought their asses off, and thank God they did, because it paid off tenfold! Because of the American experiment, I've been able to enjoy planes, trains, and automobiles, FaceTime and Instagram, McRibs, Forrest Gump, Nintendo 64, NASA, and a million other things I don't deserve and would never have the ability to create. I've had the privilege of a comfortable lifestyle, thanks to the sacrifices of my parents, ancestors, and the blessings of American ingenuity, most of which I take for granted in my day to day life. And chances are, to some degree, you have too. And it all started with a couple guys in Philadelphia, writing a giant "F*** YOU" to King George the 3rd.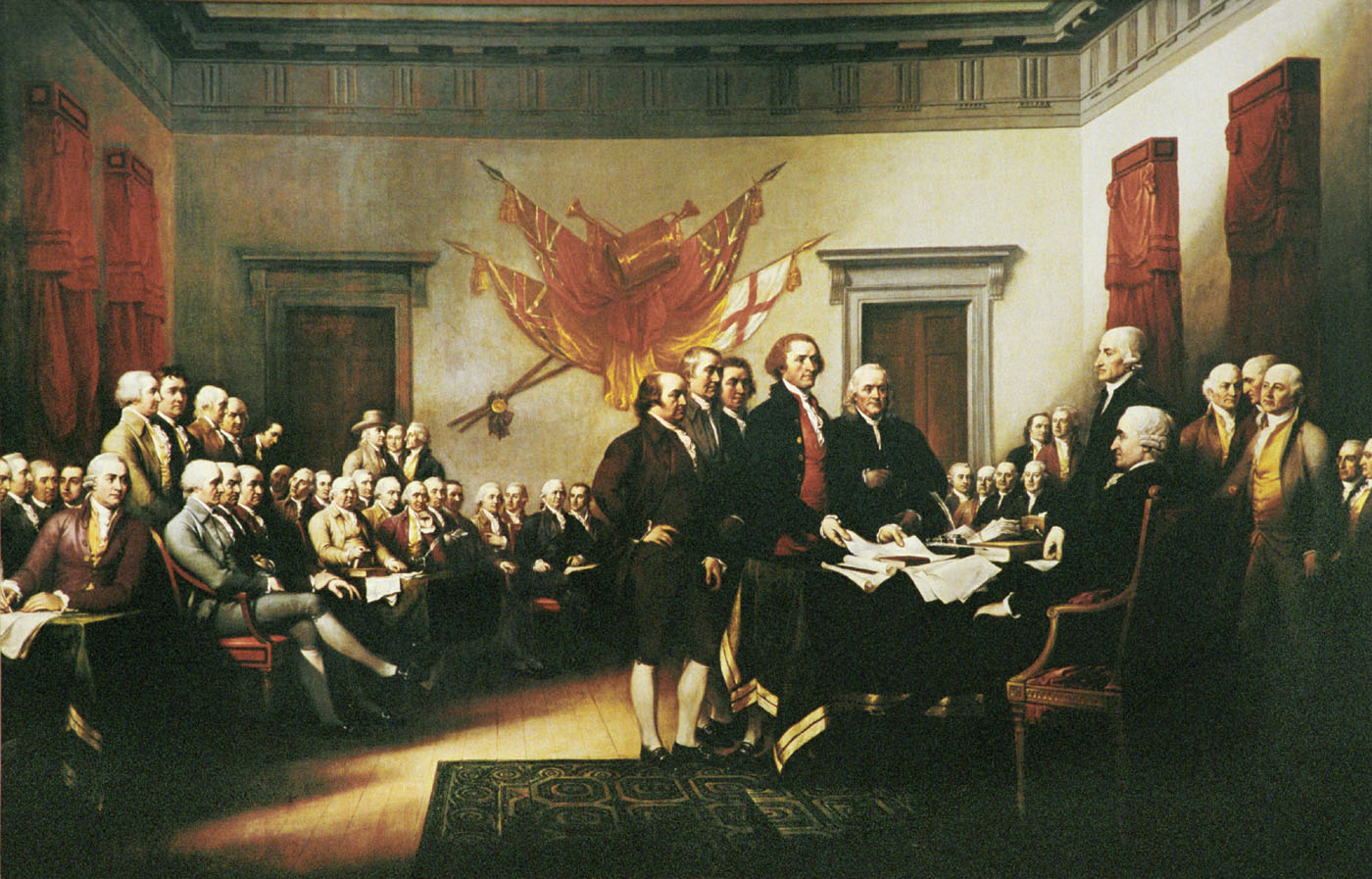 So to me, that's a good enough reason to crack open a can of Bud, blast some Kid Rock, and shoot off a few fireworks while screaming "Merica!" every year. At the same time, we can recognize the fact that there's still a lot of work to do in order to make that more perfect union they talked of. It's a reminder that it's up to us to put in the hard work and sacrifice to make it happen. After all, they fought, sacrificed, and died to give us the tools to do so. I just hope that when it comes time for me to act and do the right thing, I'll have half the courage they did back in 1776.
Cheers, and happy birthday America!